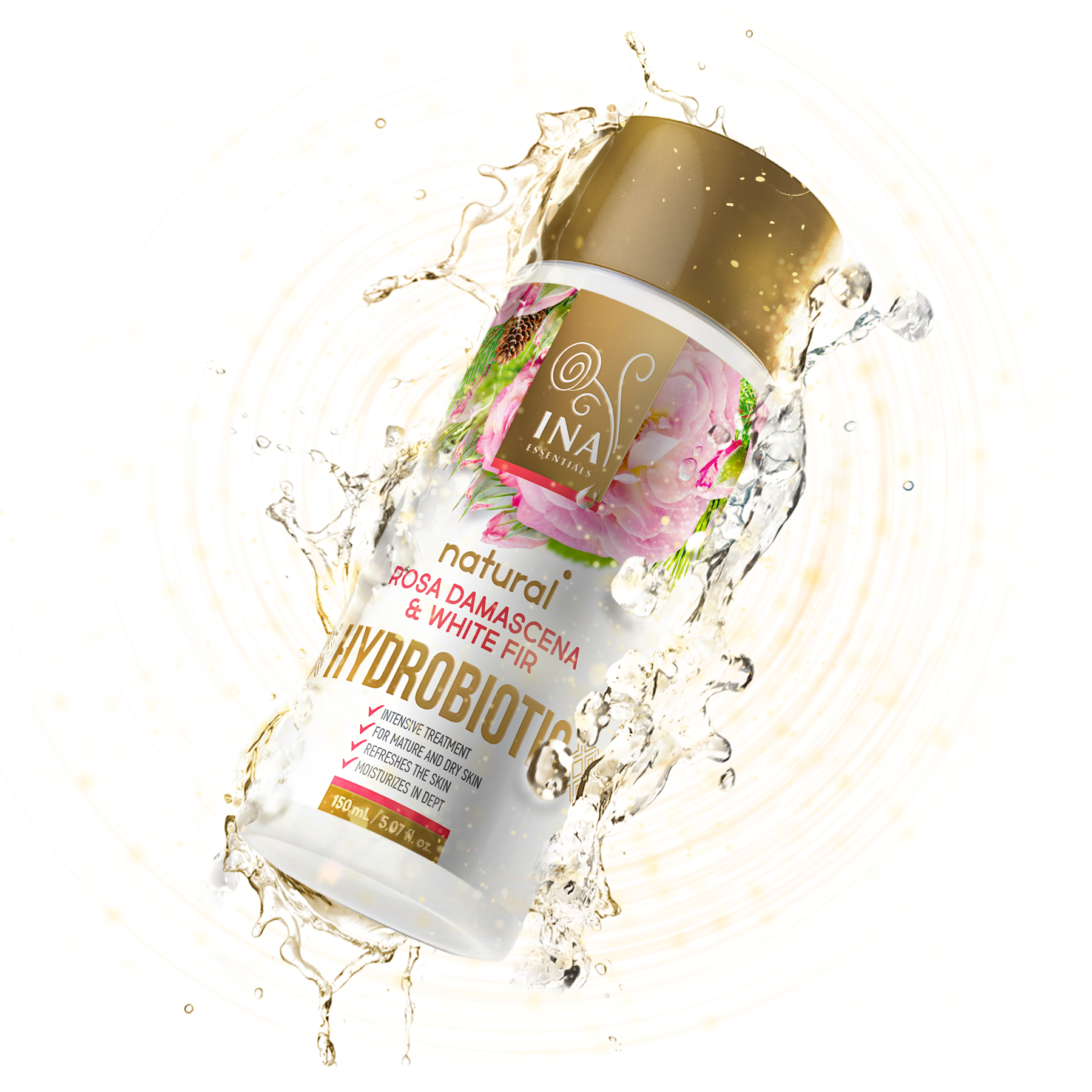 Hydrobiotic - Rose, White Fir & Lemon peel - intensive ANTI-AGE care
Innovative, one-of-a-kind intensive care for mature skin and against hyperpigmentation. A unique, trademarked combination of organic Damascene Rose and White Fir Hydrolinas, enriched with Lemon peel postbiotic cultures. Moisturizes in depth, acts against the fine lines and the hyperpigmentation and evens the complex.
100% Organic Rose Damascene Water - Hydrolina
Thanks to our specific organic method of growing and cultivating our family rose plantations, the plants retain their specific active ingredients. This way we don't compromise the plant's properties to penetrate in depth and to regenerate skin cells, making the product great at combating dry and damaged skin. The Damascene Rose has a well-deserved place in the beauty routine as it regenerates skin cells, smoothes fine lines and wrinkles thanks to its strong anti-ageing effect. Rose water - Hydrolina helps to keep your skin in balance and to enjoy its healthy and fresh look due to its moisturizing properties. Moreover, due to its anti-inflammatory action, it successfully prevents the appearance of imperfections and mild forms of acne.
InaEssentials' 100% Organic Rose Water - Hydrolina reaches a unique quantitative content of pure rose essential oil of 0.1% - the highest content available on the market!
100% White Fir Water - Hydrolina
White fir water - Hydrolina actively helps in the battle with hyperpigmentation, evens out the tan and erases minor scars. It is suitable for dry, sensitive to normal skin.
Lemon peel postbiotic
Lemon peel extract contains high amounts of vitamin C - an antioxidant that can help protect the skin from damage caused by free radicals, exfoliates the skin, removes dead skin cells and brightens the complexion. Lemon peel can also have astringent properties, which can help tighten the skin and reduce the appearance of pores. When enriched with postbiotic cultures, fermented lemon peels offer a higher concentration of antioxidants and enzymes. These compounds protect the skin from damage and promote skin cell regeneration. Fermented lemon peel can also be used as a natural source of lactic acid, which improves the appearance of fine lines and wrinkles, and provides a brightening effect.
This one-of-a-kind formula provides an intensive natural treatment for the skin. It enhances the skin's barrier function at various levels, balances the skin microbiota - does not harm the good bacteria on the skin and actively fights the bad microorganisms. It works as a strong antioxidant with hydrating properties and forms a hydrolipidic film - the "bodyguard" of the skin.
✔️ 100% Organic Rose Water - Hydrolina;
✔️100% Organic White Fir Water - Hydrolina;
✔️Postbiotic complex of Lemon Peels;
✔️Innovative active formula for mature and dry skin, and against hyperpigmentation;
✔️Tightens the skin;
✔️Reduces the fine lines and works agains wrinkles;
✔️Free of artificial fragrances;
✔️Free of artificial colors;
✔️Direct from our biological fields into your hands;
✔️100% natural product;
✔️100% pleasure for the senses;
✔️ Refund if you are not satisfied with the product after 2 weeks of use.
 Ingredients /INCI/ - ROSA DAMASCENA FLOWER WATER, ABIES ALBA LEAF WATER, AQUA, CITRUS LIMON PEEL EXTRACT, SACCHAROMYCES FERMENT LYSATE FILTRATE, CITRIC ACID*, SODIUM BENZONATE*, POTASSIUM SORBATE*
*Naturally synthesized byproducts of the fermentation.
Why Hydrobiotic - Rose, White Fir & Lemon peel by InaEssentials?
InaEssentials' Hydrobiotic - Rose, White Fir & Lemon peel  (150ml) is a unique, innovative formula. It combines 100% organic Rose water - Hydrolina and 100% Organic White Fir water - Hydrolina with Lemon peel - a fermented extract, enriched with postbiotic complex. This is the perfect product for mature skin and against hyperpigmentation. 
Secure & Swift Delivery
Payment Methods: by card
- PayPal
- Credit Card
Deliveries are made with the courier services of UPS. For orders accepted until 14:00 on a working day, delivery is within 2-3 working days.
Delivery prices:

Courier services of UPS - €5.50
FREE Shipping for orders over €50
Our Guarantee: Your Satisfaction
Your satisfaction is paramount to us. If you're not seeing the results you desire for 14 days of daily usage, we offer a no-questions-ask full refund minus the delivery fee. How to do it: just message or email our support team.
Regenerates the skin, anti-ageing
Against hyperpigmentation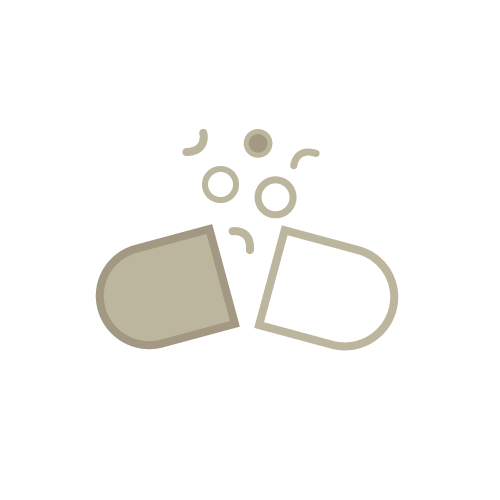 Enriched with postbiotics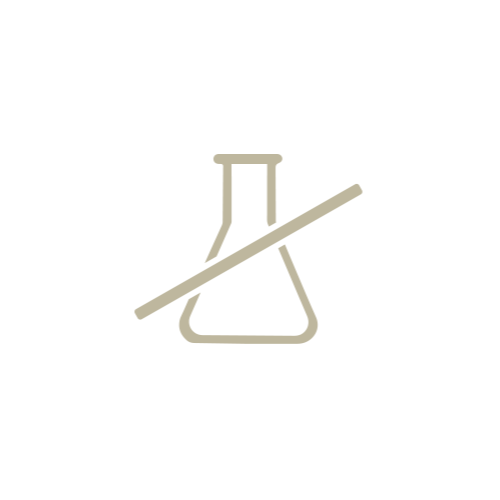 What to expect from this product:
During the first few days of use, your skin will begin to recover from any minor imperfections caused by the everyday impurities it encounters. Skin moisture will be regulated. Pores will begin to shrink and redness will diminish. You'll watch your skin's glow return, more radiant than before. 
By the second week of regular product use, you will feel your skin deeply hydrated. Redness will be under control. Minor imperfections on the skin will be erased. Spots of hyperpigmentation will begin to fade and your complexion will begin to even out.
With continued, consistent and responsible use of the product, you will notice a lasting effect - your skin will have a healthy and glowing appearance. Small imperfections and red and painful areas will be just an unpleasant memory. Hyperpigmentation will be greatly to completely impacted, and your scars will begin to even out with your natural complexion. You will also begin to see a gentle smoothing of fine lines.
** Results when using natural products are strictly individual. They depend on a number of factors, including the condition of your skin and body, your sensitivity to the herb and its active properties, the medical conditions you are targeting, responsible and regular application of the product, and your diet and lifestyle, among others.
Refreshing and gives a healthy glow!
I love this hydrobiotic water, smells lovely and leaves skin fresh and glowing. Seems to have a mild exfoliating effect which is perfect for my skin as it reacts to normal exfoliants. Great product!
Tried this new Anti-age product, and been using for about a month now.
I find it very refreshing with a pleasant smell, and it appears to be helping prevent further dark spots.
I tried the original white fir, but didn't get on so well with that...
Think my age spots are too old to clear fully, but there is definitely an improvement using this product.
Ive just returned from a holiday and don't see any further spots.
Thank you InaEssentialls UK 😊
Wonderful stuff
My skin is so clear and soft now. Never need any other moisturiser. This has replaced all other products for me and I would definitely recommend giving their lovely products a try. Very happy.