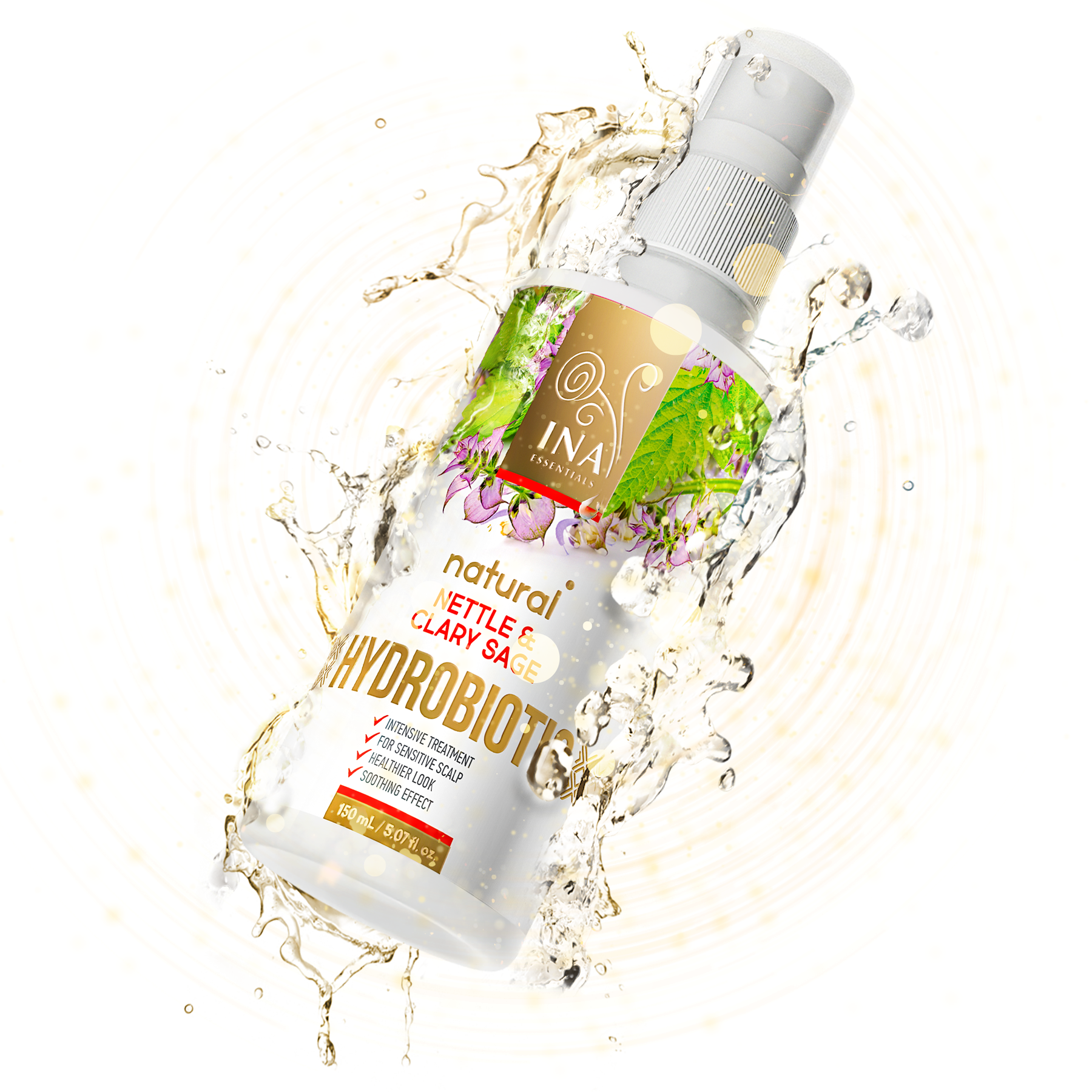 Hydrobiotic - Nettle & Clary Sage - intensive care for HAIR and SCALP
Innovative, one-of-a-kind intensive care for scalp and hair. A unique, trademarked combination of organic Salvia and Nettle Hydrolinas, enriched with a combination of Liquorice, Oak Bark and Nettle postbiotic cultures. Enhances the healthy scalp bacteria, fights hair loss and breakage and secures long-term beautiful and shiny hair.
100% Wild Nettle Water - Hydrolina
100% Wild Nettle Water - Hydrolina has the ability to actively fight excessive oiliness and to successfully revitalize the condition of the hair and scalp. It strengthens hair follicles, and thus, the product is a great solution for combating hair loss. 
InaEssentials 100% Wild Nettle Water - Hydrolina is unique in its own right because it is the only one produced in this country! The production process is extremely labour-intensive: the herbs are harvested under a full moon entirely by hand and in hard-to-reach areas, protected from any environmental pollution. 
100% Organic Clary Sage water - Hydrolina
100% Organic Clary Sage water - Hydrolina has the ability to strengthen the scalp overall health and to fight dandruff and seborrhea. Organic Clary Sage Water - Hydrolina is suitable for all scalp types. It restores healthy-looking skin and eliminates dandruff.
FermentHair - postbiotic complex
FermentHair is a specially formulated blend of natural ingredients that have been traditionally used to improve hair health. The key ingredients in FermentHair are nettle, oak bark, and liquorice. Each of these plants has been found to have specific properties that are beneficial for hair growth and overall hair health.
Nettle, for example, is known to be rich in vitamins and minerals that are essential for healthy hair. It also contains compounds that can help to strengthen hair roots and prevent hair loss. Oak bark, on the other hand, is rich in tannins, which are known to promote hair growth and improve the overall condition of hair. Liquorice, meanwhile, contains glycyrrhizin, which is a natural anti-inflammatory agent that can help to reduce scalp irritation and dandruff, while also promoting hair growth.
FermentHair is designed to harness the power of these ingredients, in order to reduce hair fall and telogen hair count, delivering prompt and effective anti-hair loss effect. FermentHair also works to increase total hair count, improving the hair density. The improvement of hair conditions remains evident even after stopping the treatment, confirming a long-lasting effect. Overall, FermentHair is a natural and effective solution to hair loss and thinning hair, it helps to promote healthy hair growth and improve the overall health of the scalp and hair.
✔️ Wild Nettle Water - Hydrolina;
✔️100% Organic Clary Sage Water - Hydrolina;
✔️Postbiotic complex FermentHair;
✔️Innovative active formula for hair health;
✔️Strong healing properties;
✔️Long-term results;
✔️Free of artificial fragrances;
✔️Free of artificial colors;
✔️Direct from our biological fields into your hands;
✔️100% natural product;
✔️100% pleasure for the senses;
✔️ Refund if you are not satisfied with the product after 2 weeks of use.
Ingredients /INCI/ - URTICA DIOICA LEAF EXTRACT, SALVIA SCLAREA (CLARY SAGE) FLOWER/LEAF/STEM WATER, AQUA/WATER, URTICA DIOICA LEAF EXTRACT, GLYCYRRHIZA GLABRA ROOT EXTRACT, QUERCUS ROBUR BARK EXTRACT, SACCHAROMYCES FERMENT LYSATE FILTRATE, CITRIC ACID*, SODIUM BENZONATE*, POTASSIUM SORBATE*
*Naturally synthesized byproducts of the fermentation.
Why Hydrobiotic - Nettle & Clary Sage by InaEssentials?
InaEssentials' Hydrobiotic - Nettle & Clary Sage  (150ml) is a unique, innovative formula for long-lasting healthy and stong hair. It combines Wild Nettle water - Hydrolina and 100% Organic Clary Sage water - Hydrolina, enriched with FermentHair - combination of Oak bark, Nettle and Licorice with postbiotic complex. This is the perfect product for all types of hair. 
Secure & Swift Delivery
Payment Methods: by card
- PayPal
- Credit Card
Deliveries are made with the courier services of UPS. For orders accepted until 14:00 on a working day, delivery is within 2-3 working days.
Delivery prices:

Courier services of UPS - €5.50
FREE Shipping for orders over €50
Our Guarantee: Your Satisfaction
Your satisfaction is paramount to us. If you're not seeing the results you desire for 14 days of daily usage, we offer a no-questions-ask full refund minus the delivery fee. How to do it: just message or email our support team.
Helps for healthy scalp and hair
Suitable for all types of hair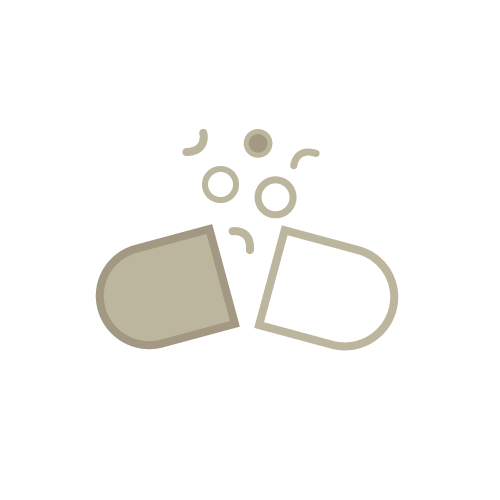 Enriched with postbiotics
What to expect from this product:
Within the first few days of use, your scalp will begin to directly improve its overall look and feeling. The product will actively cleanse away all the environmental pollutants and the hectic daily life impurities that have been accumulated in your hair roots and will build a protective layer. Irritated areas will begin to soothe, itching and dandruff will begin to reduce. You may observe a stimulation of oiliness for a short period of time directly after use - this should not worry you, quite the contrary :) Your scalp is just looking for balance.
On the second week of regular use of the product, the active ingredients will start to accumulate in the hair follicles. You will start to notice less and less hair falling out. Remember, it is perfectly natural to lose 50 to 100 hairs a day.You will begin to notice increasing relief of the previous discomfort. Dandruff will decrease significantly.
With continued, consistent and responsible use of the product, you will notice a lasting effect. The scalp skin will be regenerated and healed.  Hair loss will be significantly controlled. Eventually, you will notice more and more newly grown hair.
** Results when using natural products are strictly individual. They depend on a number of factors, including the condition of your skin and body, your sensitivity to the herb and its active properties, the medical conditions you are targeting, responsible and regular application of the product, and your diet and lifestyle, among others.